/ News, People
Welcome to the team - Andreas Papassotiropoulos Lab and Dominique de Quervain Lab!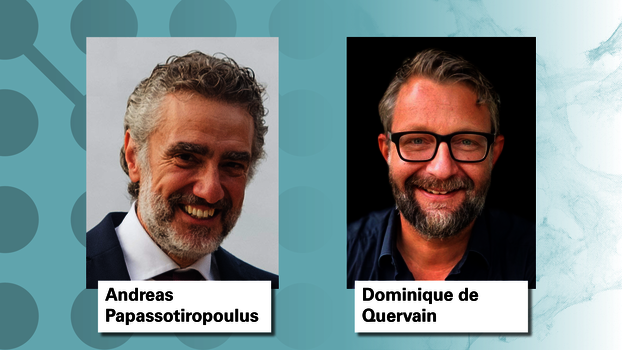 Professor Andreas Papassotiropoulos and Professor Dominique de Quervain are physicians and share more than 20 years of scientific collaboration. They are heading the Divisions of Molecular Neuroscience and Cognitive Neuroscience, respectively, and are co-directing the Research Platform Molecular and Cognitive Neurosciences (MCN), a joint research cluster between the Medical Faculty, the Department of Biomedicine (DBM) and the University Psychiatric Clinics (UPK).
The aim of their research is to improve the understanding of the neurobiological and molecular mechanisms of human cognition and emotion and to develop new therapeutic strategies for the treatment of neuropsychiatric disorders. Consequently, members of their team have backgrounds in such disciplines as psychiatry, biology, genetics, psychology, mathematics, engineering, and clinical trials. Over the years, MCN has been building up an incremental database that includes over 4000 deeply phenotyped healthy subjects and a unique combination of functional and structural brain imaging, genomic, epigenomic, metabolomic, behavioral, and biological data. This database is available for collaborative research within the DBM and the broader scientific community.
To foster the translation of their research findings into specific therapeutic applications, Dominique de Quervain and Andreas Papassotiropoulos founded GeneGuide AG. The goal of this spin-off company is to identify and develop new pharmacological and non-pharmacological treatments for neuropsychiatric diseases such as schizophrenia, anxiety, and memory-related disorders.