Past Events and Speakers
2023
13.09.2023: Susan Mango, a professor and group leader at the Biozentrum, University of Basel. Her group's main focus of research is how embryonic cells develop into complex organs.
13.07.2023: Dana Ivan, a discovery postdoc in Mechanistic Immunology at Novartis Institutes for Biomedical Research investigating the molecular mechanisms involved in immunogenicity to biotherapeutics and AAV-based gene therapy.
08.06.2023: Magdalena Filipowicz Sinnreich, Research Group Leader at the Department of Biomedizin looking at the role of MAIT cells in liver disease and liver fibrogenesis
11.05.2023: Dr Romina Matter-Marone, Senior Scientist at the DBM and a pioneer of establishing Cimeio Therapeutics AG
20.04.2023: Dr Claudia Korn, Senior Scientist at Roche
09.03.2023: Dr Vanessa Cornacchione, Research Investigator at Novartis Institutes for BioMedical Research (NIBR)
09.02.2023: Dr Sepiede Bueler, Integrated Strategy Leader for Hematology at Roche
2022
10.11.2022: Prof. Dr Susan Gasser, Former Research Group Leader, Former Director of the FMI and current Director of the ISREC
13.10.2022: Socializing Event and Pub Quiz: "How well do you know pioneering women in science?"
08.09.2022: Dr Clémentine Le Magnen, Research Group Leader at the DBM
17.07.2022: Dr Verena Kuepers, Scientific Associate at the Department of Clinical Research at the University of Basel
18.06.2022: Laia Gili Sole, PhD student at the DBM
05.05.2022: Dr Lena Wyss, Senior Scientist at Roche
28.04.2022: Prof. Dr Daniela Finke, Research Group Leader at the DBM
Networking event for Female Scientists and their Supporters - with special guests from industry and academia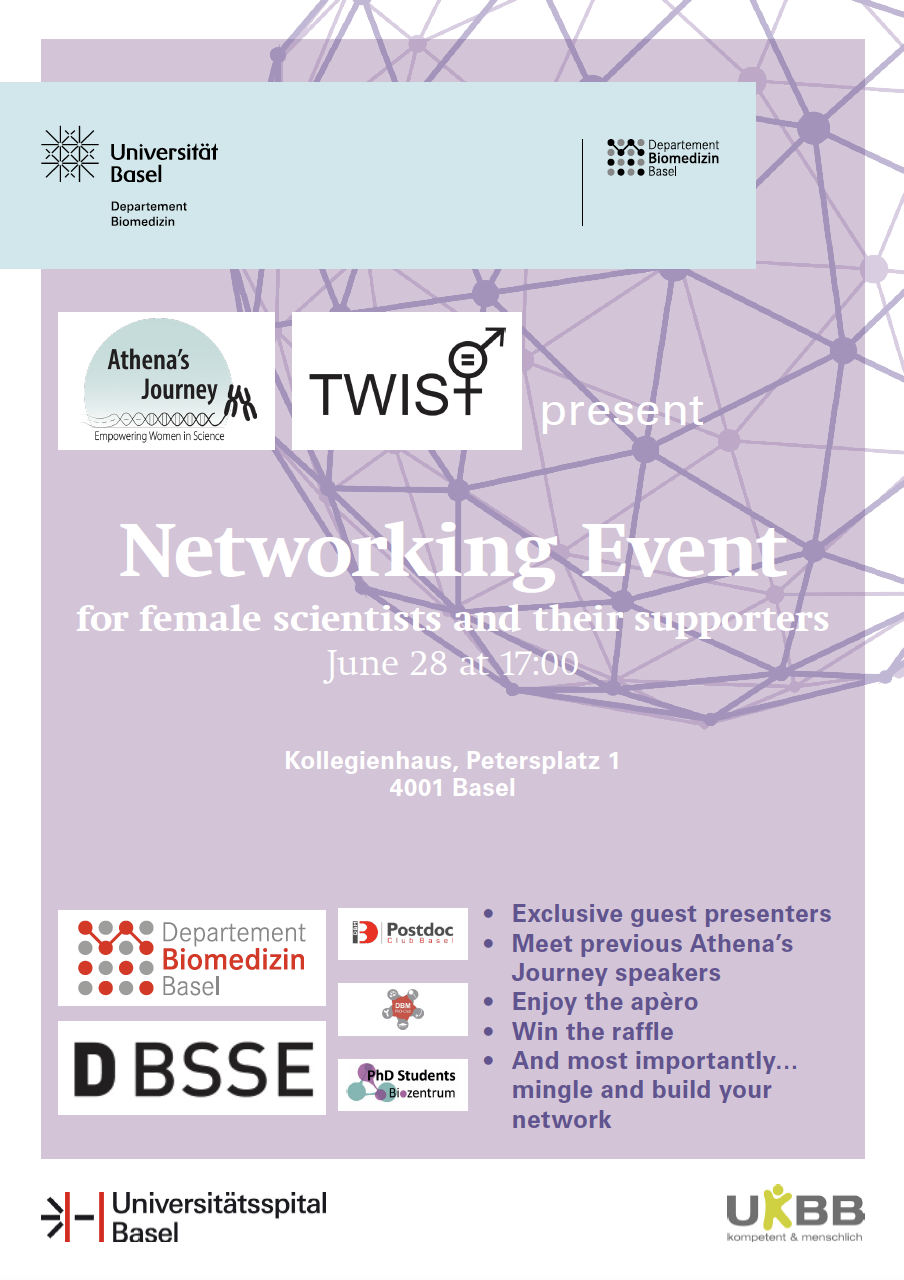 It was hosted by Athena's Journey in collaboration with TWIST on 28.06.2023. The event was greatly supported by the DBM and DBSSE, Biozentrum, DBM PhD and postdoc societies. Andrea Ottolini, the managing director of the Department of Biomedicine opened the event with valuable words on women's empowerment and the importance of such events. Shortly after, Dr Clémentine Le Magnen, a group leader of the laboratory for Translational Genitourinary Cancer Research (TGCR) – a joined venture between the Department of Urology and the Institute of Pathology at the University Hospital Basel, highlighted her experience as a past Athena's journey speaker and her stand on supporting females in science and such events. A catered apèro was organised, where our lovely guests met fellow women in science and networked successfully!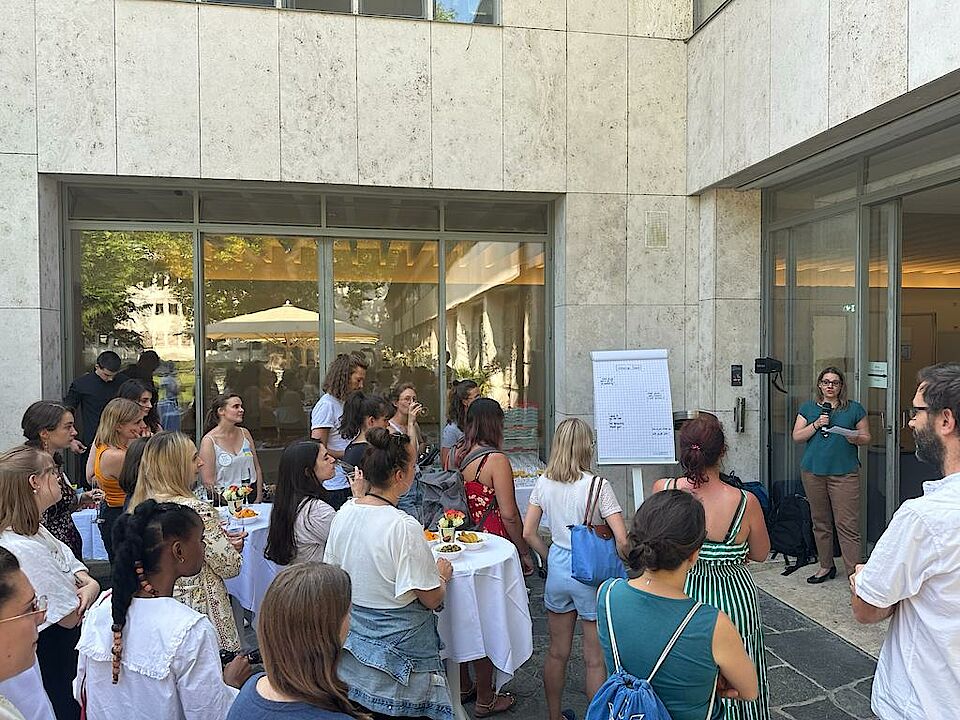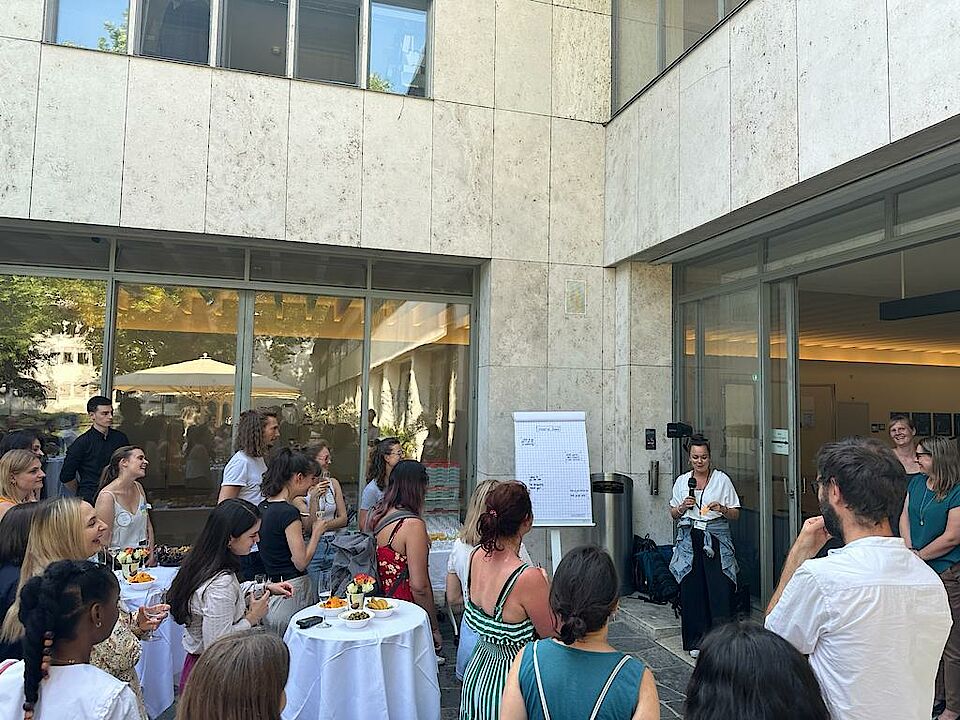 28.04.2022: Inaugural Event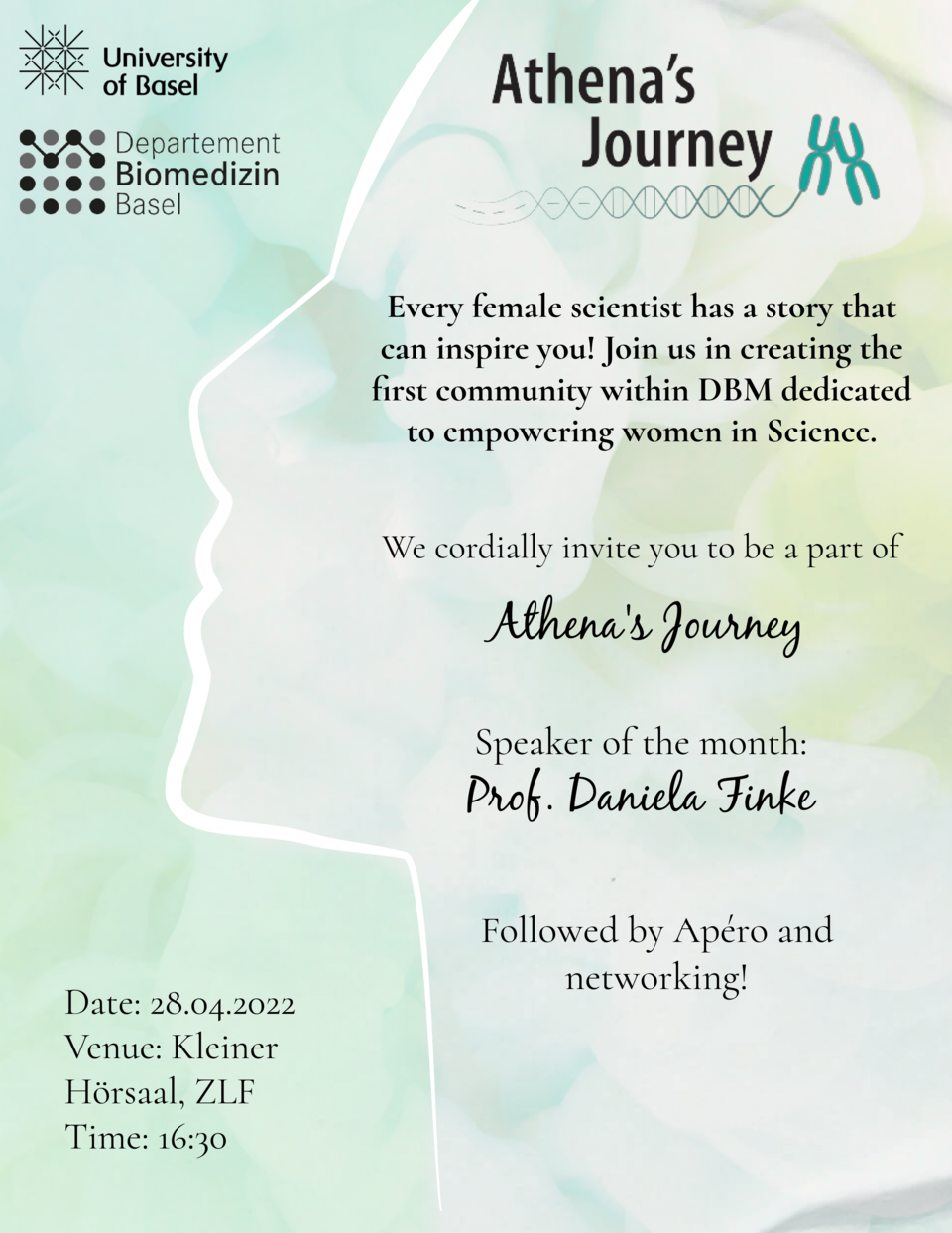 Andrea Ottolini-Voellmy, the head of operations at DBM, opened the event with a compelling speech which set the tone for the event. The first speaker of this series was Prof. Dr. Daniela Finke, Senior Physician and research group leader at the University Children's Hospital of Basel (UKBB) and the Department of Biomedicine. The enthusiastic immunologist spoke in great detail about her tumultuous, yet successful career path. She spoke of crucial decisions that were made during her career: Medicine vs Science; Europe vs USA; whether to settle for a "safe" in-hand option or to explore a riskier, but more interesting option. She spoke of the mentors, both men and women, in positions of power who supported her and helped further her career. One such mentor was Dr. med. Conrad E. Muller, former President of UKBB who also attended the event. He encouraged Athena's Journey and highlighted the importance of women in higher positions of power. The way Prof. Finke spoke about her struggles and victories made the talk extremely relatable. She ended her talk by saying, "If you can't find the correct room, open several doors until you do". The audience was captivated and a fruitful discussion was held after the talk. The lively discussions continued at the apèro where men and women from several professional backgrounds and career levels enjoyed snacks and drinks in the sun. The core committee members were seen networking and simultaneously providing information about the event. It was an extremely successful first event for Athena's Journey, and the attendees remarked that they look forward to the monthly series.